Cape Cod Bay Charter Fishing w/ Rifles to Rods & 22Mohawks
August 14 @ 5:45 am

-

1:00 pm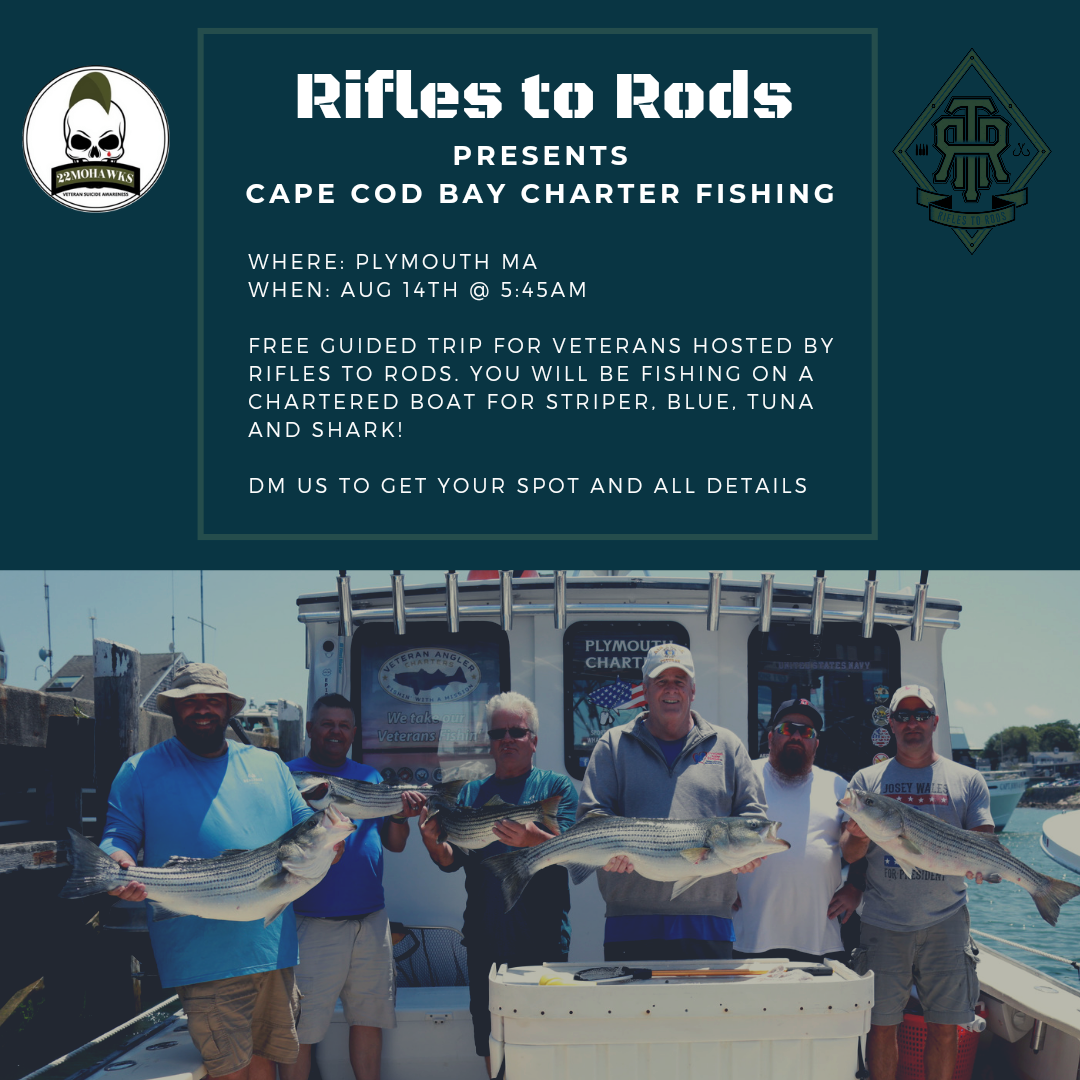 NAMES ARE POSTED ON SOCIAL MEDIA – AND EMAILS SENT 
Cape Cod Bay Charter Fishing w/ Rifles to Rods & 22Mohawks
This is a lottery event with 15 spots available!
​You will be fishing on a chartered boat out of Plymouth, MA. , outfitted to fish anything from striped bass to tuna.  Depending on what is in season and where the bite is, we will be fishing for Striper, Blues, Tuna or Shark!
No gear or experience necessary.
Boat provides all gear needed.
No fishing license necessary.
Look at the weather in Cape Cod Bay the day before and dress accordingly. Sunglasses, hat, sun protection.  No shoes with black rubber scuffing soles on the boat.  No bananas on the boat.  Bring snacks and water.
This is a free guided trip hosted by Rifles to Rods.  RTR covers the cost of the charter, all that we ask is, if you are financially able, could you please tip the first mate.
Meet up @ 5:45 a.m.
The Leo F. DeMarsh Boat Ramp, Plymouth MA
The Leo F. DeMarsh Boat Ramp is located behind the East Bay Grill.
 https://goo.gl/maps/qcfEib3oBKdvZaiu5
 Park in long term parking and pay at the yellow kiosk or download the app.
Long term parking entrance is located at the corner of Water St. and Lothrop St. Plymouth, MA 02360
Meet at the dock for 5:45am, boats depart at 6am sharp.  We will get off the water around 1:00pm depending on conditions. Cell phone service can be spotty in the bay.
Thank you to Gerard McAllister at Rifles to Rods and Colton Martin for arranging this event!