Boston Bruins Foundation BFit Challange "Join to Support 22Mohawks"
February 5, 2023 @ 9:00 am

-

1:00 pm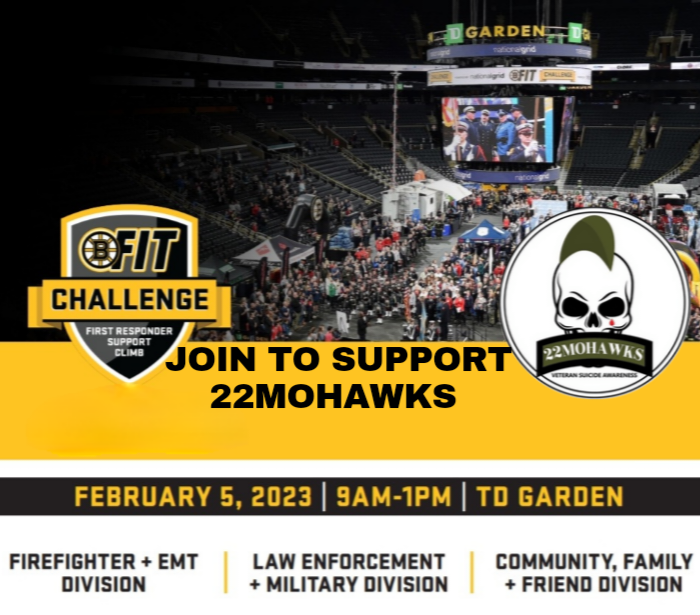 Join 22Mohawks at the Boston Bruins Foundation's 7th Annual BFit Challenge. This is NOT a fitness challenge but a Community Fundraising Event. We will be raising funds from NOW till January 24th 2022. The day of event will be in person February 5, 2023 and also run virtually the week prior. This event is to support Military, First Responders, and everyone in the community!
You don't need any fundraising experience and the 22Mohawks team will be hosting weekly zoom meetings to help teams with their fundraising efforts!
All fundraising/donations/sponsorships go directly through the Boston Bruins Foundation and 100% of proceeds under 22Mohawks entries will come to us and go directly to supporting our veterans!
HOW CAN YOU JOIN!?
You can do this by participating in the event, which requires a minimum $300 fundraising total per individuals or you can create a team to expand your reach. Those who want to help but can't make the commitment to the event can donate to an individual or team participating in the event under 22Mohawks.
STEP 1 : Register to "Become a Fundraiser" : https://runsignup.com/Race/Register/?raceId=92160  
After a few questions it will lead you to set up your own individual fundraising landing page. You will fill out this info:
* YOU CAN ALWAYS GO BACK AND EDIT THE INFORMATION ONCE YOU SIGN UP *
A "tag line" ex quote, phrase example "Deeds Not Words" 

A custom URL ( choose something easy for people to remember and type )

A "personal message heading" Intro Sentence or two.

A "Personal Message to Display" This will be a little blurb on you and WHY you are choosing to support 22Mohawks.
Step 2 : "CREATE OR JOIN A TEAM FUNDRAISER" If you have a team to join select them from the pull down tab or choose "new team fundraiser" to create your own team! If you need help filling it message me.
Be sure to choose 22Mohawks when it asks which charity you'd like your fundraising to go to!
Step 3 : Pay $25 Fee then be sure to copy your custom URL you created to share with others to begin asking for contributions to your page!
DONATE ONLY LINK: If you can not Participate but would like to Donate use this link: https://runsignup.com/Race/Donate/MA/Boston/BFitChallenge2021 
SPONSORSHIP PACKAGES FOR BUSINESSES: IF Interested in a sponsorship package please check this link and contact the Boston Bruins Foundation directly to sponsor under 22Mohawks. https://runsignup.com/Race/BFitChallenge2021/Page-21  
If you want to go BIG we are taking applications for team leaders. Team leaders will oversee a team of 10, with each individual person set to raise $1,000 for a team total of $10,000. We are looking for leaders under these headings but not limited to Active Duty Military, Veterans, Nurses, EMT, Firefighters, Law Enforcement , Teachers, Fitness Guru, Rucking, and Mohawk Minion participants for 17 and under (only required the min $300 per member for children).
22Mohawks focus is to raise awareness around veteran mental health and suicide while ultimately raising funds to support veteran suicide prevention.
Please reach out to Dave and myself with any questions or to join Team 22Mohawks.
We are grateful to everyone who supports 22Mohawks mission and thank you for being part of the solution! 
stacey@22mohawks.com  dave@22mohawks.com 
774-273-3297 or 617-680-9852